As part of the sandbox game's New Year celebrations, a free Minecraft map complete with parkour and a boss fight is being offered to all players, as you take on the role of a Chinese god with Indian origins, battling a mythological beast heavily associated with celebrations of the Lunar New Year.
The free Minecraft Adventure is called "Monster Attack Nian" and it casts you as mythological figure Nezha as you explore the origins of the Lunar New Year and face-off against Nian in a map built by Next Studio. It looks like there will be some new Minecraft skins in there, too.
There's a whole pre-built world to explore with this free Minecraft adventure, with temples, villages, and puzzles that you will have to navigate while attempting to learn Nian's weaknesses and face them head-on. You can even get special weapons and ride Nian once they've been defeated, so this certainly looks like it'll be worth the effort.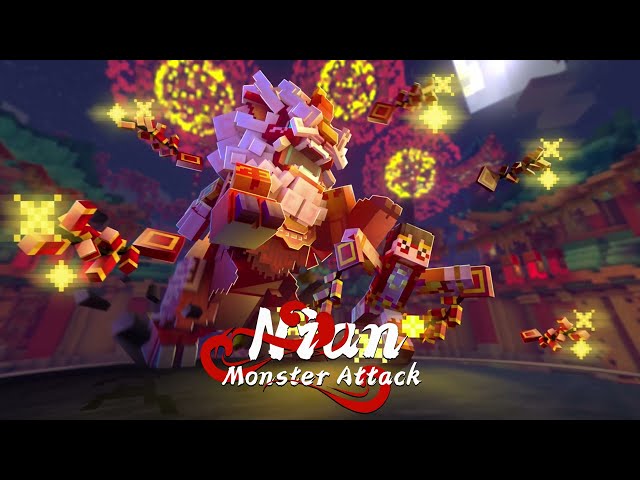 "Nian is a creature of legend, and we had a lot of fun recreating the image and characteristics of this mythological beast from historical materials!" Shawn from Next Studio says. "We wanted to let players experience the legend for themselves, through Minecraft. This is our first adventure with cinematic storytelling, so we put more attention into the design of shots and creature movements, too!"
The puzzles and challenges look like they'll extend to Minecraft parkour and mazes, alongside a climactic final boss fight where you'll use some sort of fire-based weaponry to defeat Nian.
Monster Attack Nian is a free Minecraft adventure that can be downloaded from the official Minecraft website. Keep in mind though that you need the latest version of Minecraft Bedrock Edition and downloads are limited to one per person/account.
If you want the chance to get even more creative in the colossal sandbox game, we've got lists for the best Minecraft maps, Minecraft seeds and the best Minecraft mods, both of which are sure to enhance your experience tenfold.