The best webcams of 2021's pandemic have transitioned into the best work-from-home webcams of 2022 and 2023. Manufacturers now realize that 1080p resolution, proper lighting, and improved audio matter, though budget options often focus on just the camera itself.
Most laptops still ship with a 720p webcam, so a 1080p webcam will be a step up—you'll stand out from the pack on your next Teams call. There are even premium models with high refresh rates and integrated ring lights for a few dollars more. This doesn't mean you can't choose from models with 4K resolution or a higher refresh rate. We've included a 4K recommendation and a 60fps option for precisely this reason.
We haven't tested all of these webcams, but we've pored over the available models to pick out the best buys based on specs and bundled extras, including our own reviews. You can also refer to our separate story on Windows Hello webcams to buy a webcam for videoconferencing and to log you in to your PC. We've taken two recommendations from that list, however, and added them here: a premium and budget webcam with Windows Hello.
To help you choose, check out our buying advice below our recommendations.
Logitech C920e Business Webcam – Best overall webcam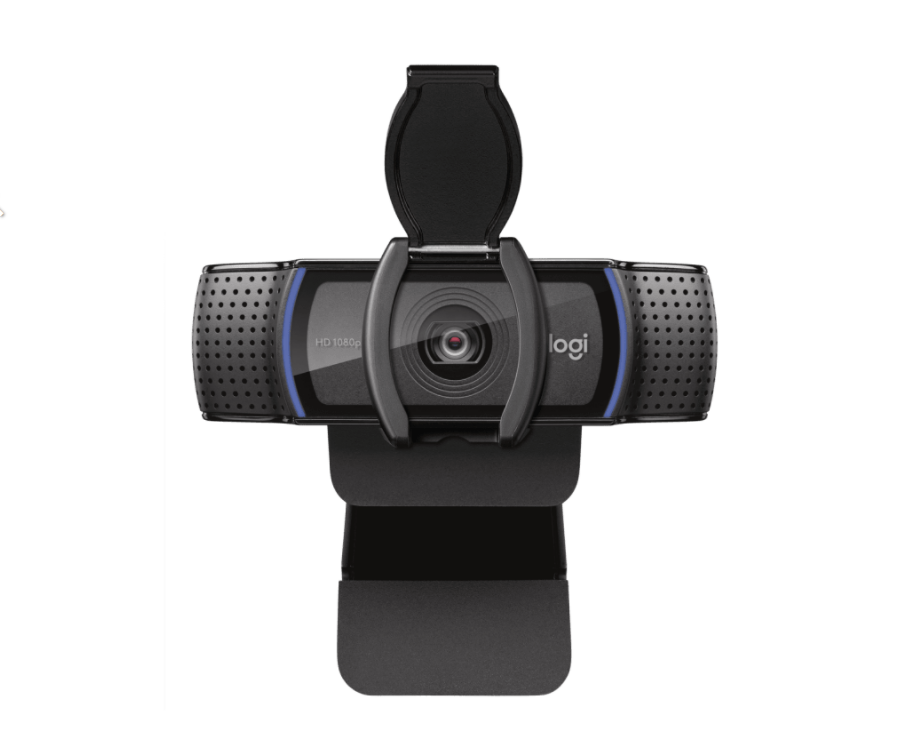 Pros
Three-year warranty
Exposure and color controls
78.5-degree viewing angle
The Logitech C920e is the most recent version of the venerable Logitech C920, probably the most iconic webcam of the last few years. Confused about whether you should buy the C920e or the C920s? Logitech describes the C920e as a business camera, and the C920s as the consumer version—they're otherwise identical, save that the C920e has a three-year warranty versus a two-year warranty, while costing the same. The C920e reportedly offers lighting and color controls that the C920s does not, as well.
Both cameras use a narrower 78.5-degree viewing angle, which focuses on your face better than webcams that use a 90-degree viewing angle. It's also an autofocus camera, which helps justify its higher price. Aside from a lack of 60fps support, this is still a great webcam. We prefer it, in fact, to Logitech's most recent webcam, the Logitech Brio 305, which is slightly more expensive and lacks the 1.2X zoom the C920e offers.
A number of Asian companies are starting to match what the C920e offers on paper, but its superb video quality could be harder to mimic. You can refer to our Logitech C920 review for more information.
Razer Kiyo Pro – Best premium webcam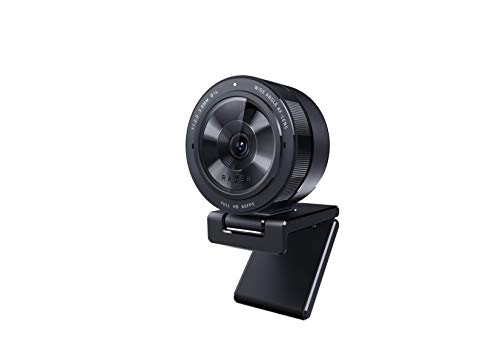 Pros
Terrific image quality in all lighting
HDR
60fps
Cons
High price
Razer Synapse software is necessary to control some functions
The Razer Kiyo Pro is an improvement over the original Kiyo in almost every way. It's a fantastic, autofocusing 1080p webcam that captures at 60 frames per second, rather than the default 30fps of its competitors. The result will be a noticeable visual improvement compared with the others on your video call. It does struggle a bit with autofocus, but the image performance is otherwise top-notch.
The Kiyo Pro webcam ships with a 1.5-meter braided USB cable, and includes a USB-A connection. Our review below includes a video shot under natural lighting, so you can see how well the Kiyo shines.
Read our full
Review Razer Kiyo Pro
Anker B600 Video Bar – Best premium webcam for convenience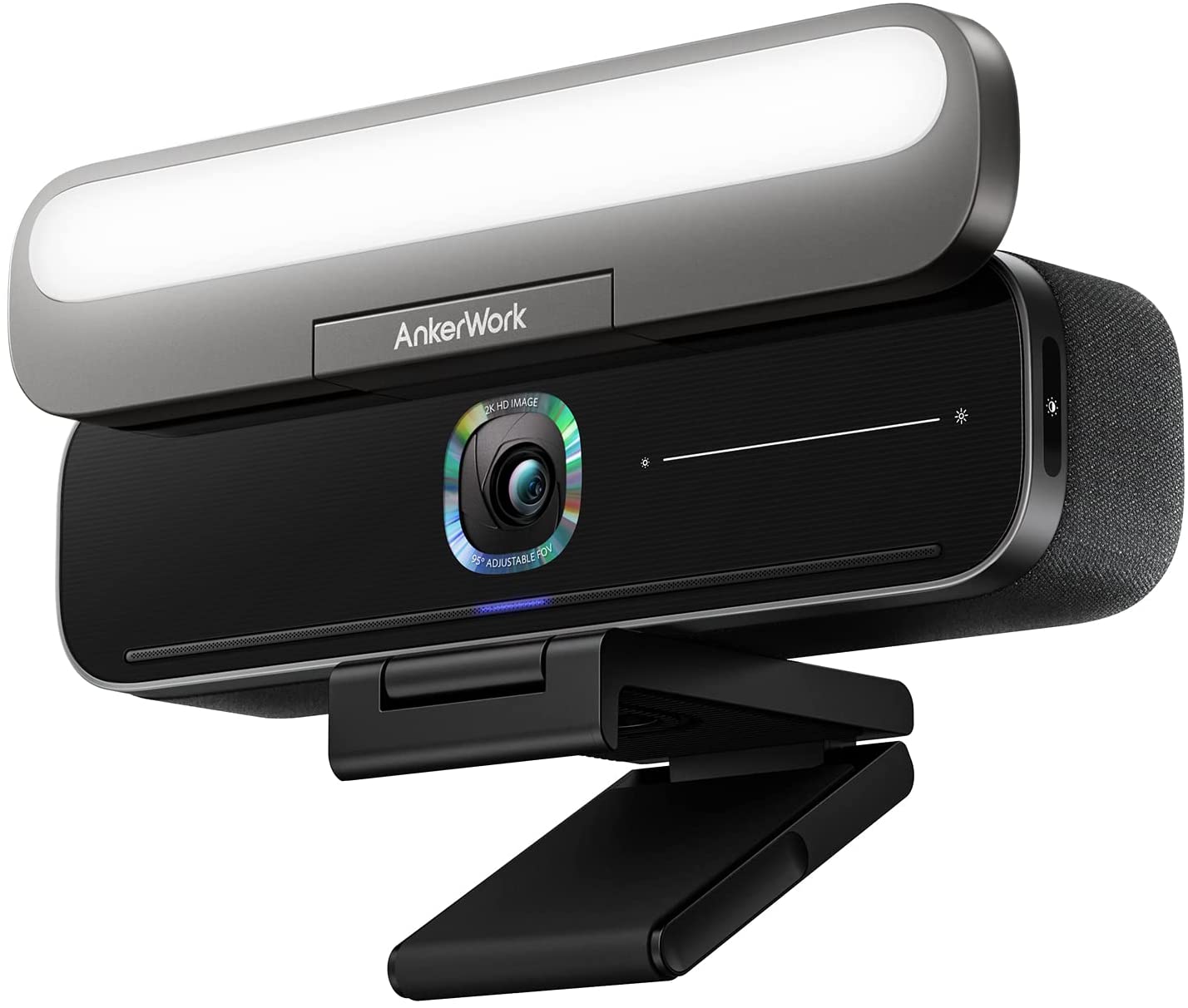 Pros
65, 78, and 95 degree viewing angles
Built-in speaker, microphone, and light bar
Adjustable settings for brightness, contrast, and more
Privacy shutter
Swivel mount
Cons
30fps
Too heavy for use with a laptop screen
The price tag on Anker's premium B600 video bar may cause double-takes. But this webcam packs in the features. Inside is a 2K resolution camera, four-microphone array, speaker, and built-in light that also serves as a privacy guard—and you get a high level of control over all the hardware.
Capacitive buttons on the device let you mute the mic, adjust the intensity of the light, and turn the light on and off. Though a bit fiddly, they work and solidly cover the basics. There's an LED light that indicates the mic's status, too.
The companion AnkerWork app expands your settings. Choosing between viewing angles of 65, 78, and 95 degrees is fast, as is downscaling the default resolution from 2K to 1080p, 720p, or 360p. You can also tune the brightness, sharpness, saturation, and contrast of your video feed, alter the light bar's color temperature, and set the light's brightness to auto adjust based on ambient conditions.
This webcam is an extremely nice all-in-one solution, so long as you're parked at a desk. (This video bar and its swiveling mount require a monitor for proper support.) The camera is clear and crisp, the speaker gets plenty loud, the mic holds its own against many laptops and earbuds, and the light is handy in dark rooms or for balancing out harsh backlighting. You can use the B600 as a speakerphone, too, eliminating problems with other callers hearing themselves as they speak.
Dell UltraSharp Webcam (WB7022) – Best premium 4K webcam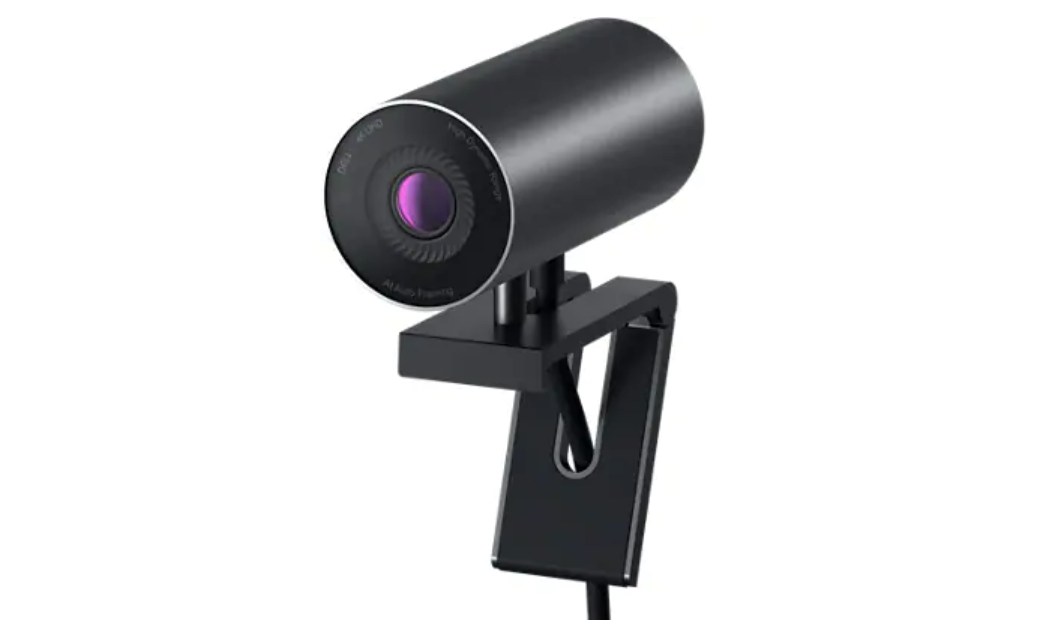 Pros
4K and HDR
AI framing crops the image to keep you centered
Configurable field of view
Cons
Privacy shutter is a separate piece that you could lose
No mic
If you want to pay extra for a 4K webcam—to show yourself off at an ultra-high-resolution—we recommend this Dell UltraSharp webcam. Save for a ring light, this webcam ships with all of the bells and whistles. The 3.5-inch-long webcam mounts either on a laptop/display or via a tripod; Dell includes both. There's a 2-meter (over 6 feet) cable, terminating in a USB Type A interface with your PC.
There's an intriguing mix of features: HDR, autofocusing, digital zoom (up to 5X), framing, brightness, saturation, and more. Unusually, the WB7022 is neither fixed-focus nor does it offer a fixed field-of-view (FOV). Dell's AI framing crops the image to keep your face centered, and you have the option of configuring the field of view from 90 degrees, to 78 degrees, and down to a narrow 65 degrees. Dell applies HDR, temporal, and spatial noise reduction to help you look your best. There's even Windows Hello.
There are a few oddities: The privacy shutter doesn't flip down; it's a separate piece that magnetically connects to the front of the lens. There's no mic, either, so you'll have to use a headset or just your laptop's mic. You're also trading high resolution for an otherwise standard 30fps frame rate.
eMeet C960 Webcam – Best budget webcam
Pros
Dual mics
Noise cancellation
Cons
Fixed focal length
No privacy shutter, though it looks like there is
This 1080p webcam also has a wide-angle 90-degree viewing angle, which might be a little wide for a single person. It perches on the back of a laptop or flat-panel display. Don't be fooled by the image; there's no privacy shutter, though you drape a cloth over the webcam when not in use.
Reviews of this camera seem to be almost universally good, though you'll need to make sure that you're well lit. If you need extra light, eMeet also sells a version of the webcam with a ring light for $59.99.
Nexigo N60 – Best budget webcam runner-up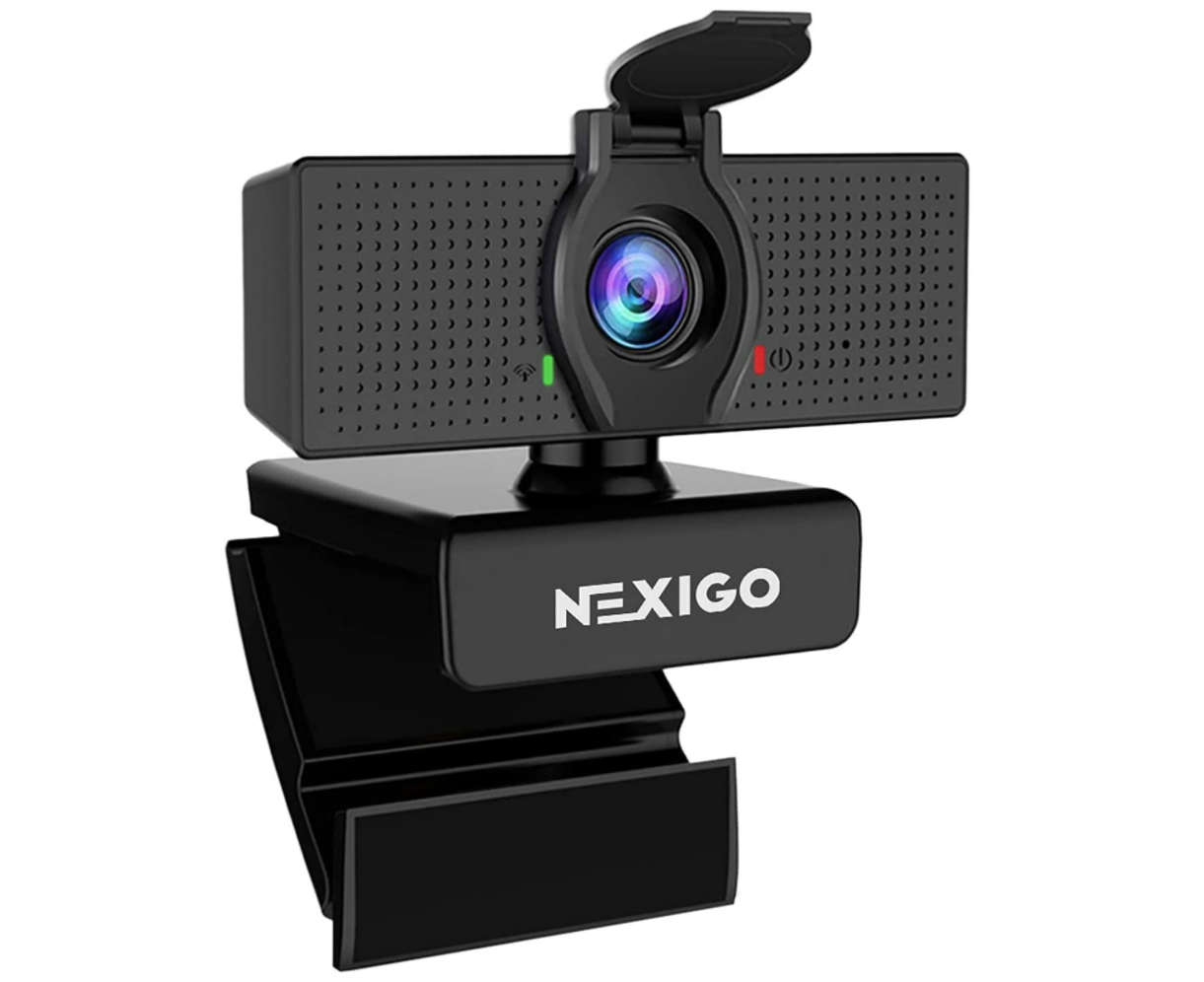 Pros
Privacy shutter
Noise-cancelling stereo mic
Cons
Fixed focus
110-degree viewing angle
This 30fps 1080 webcam is optimized more for group calls, as its 110-degree viewing angle will pick up more of the scene than rival webcams.
This webcam also clips onto a laptop or monitor. One of the nicer touches is a small LED alerting you when the camera is powered on and connected.
I bought this webcam for my son during the pandemic, and he used it everyday to connect to his classes via Zoom. He didn't have any complaints about picture quality, and we haven't seen any from other buyers, either. NexiGo provides some basic software controls to help adjust color and contrast, too. The mics seem to do quite a good job picking up your voice and filtering out any ambient noise.
NexiGo N980P – Best webcam for wide-angle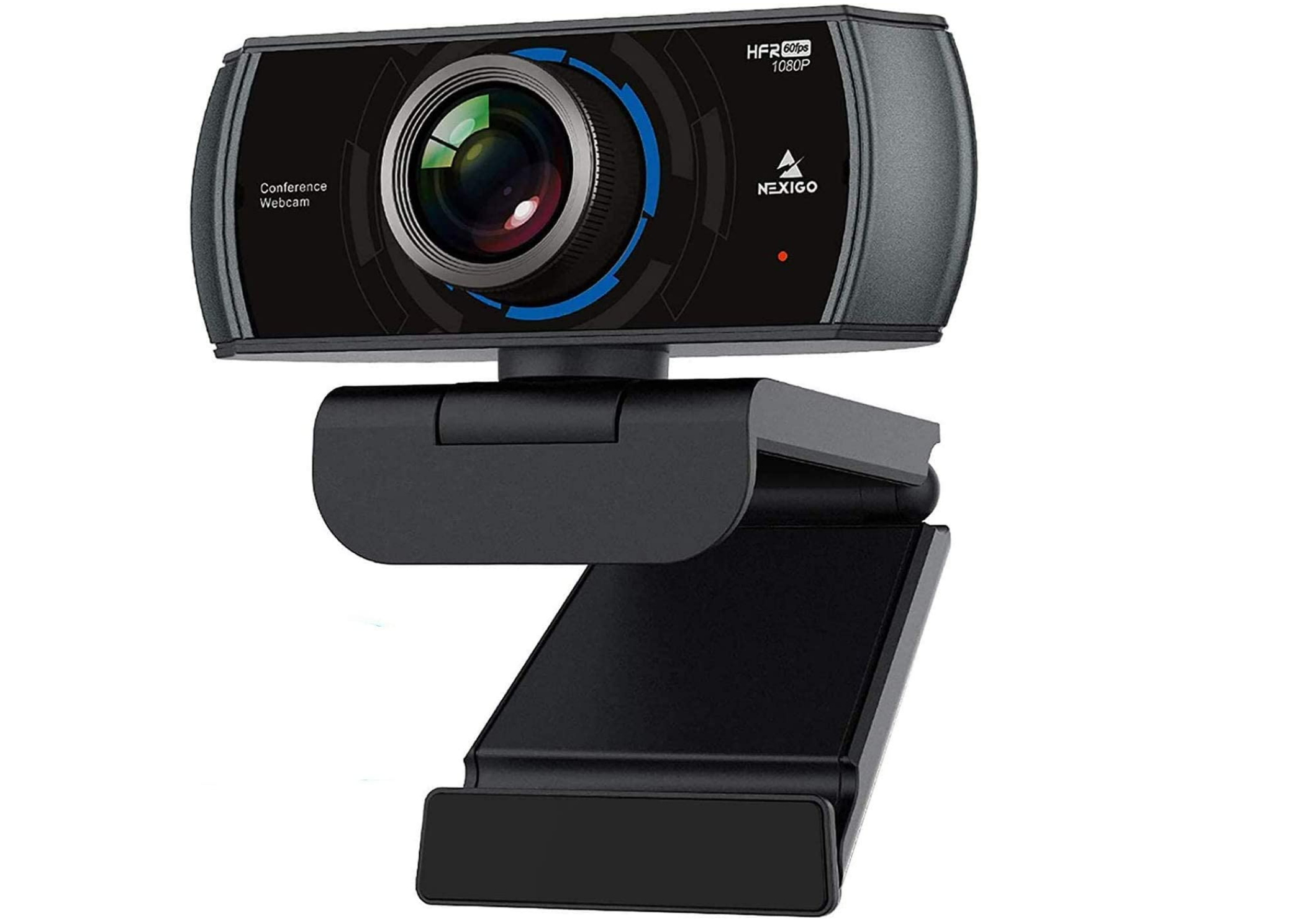 Pros
60fps
120-degree viewing angle
Privacy shutter
This fixed-focus 1080p webcam captures frames at a smooth 60 frames per second, as opposed to the more standard 30fps. You'll look smoother and more lifelike as a result. The camera also captures at a 120-degree angle, which might not be ideal for a home user but can work quite well in a living room or conference room. This webcam is very highly reviewed on Amazon, with reviewers praising it for its color balance but criticizing it for its inability to be finely adjusted.
It's still a fixed-focus camera though—if you want an autofocusing model we'd recommend you pay about $100 for the upgraded NexiGo N680p instead.
Logitech Brio 4K Ultra HD Webcam – Best premium webcam for Windows Hello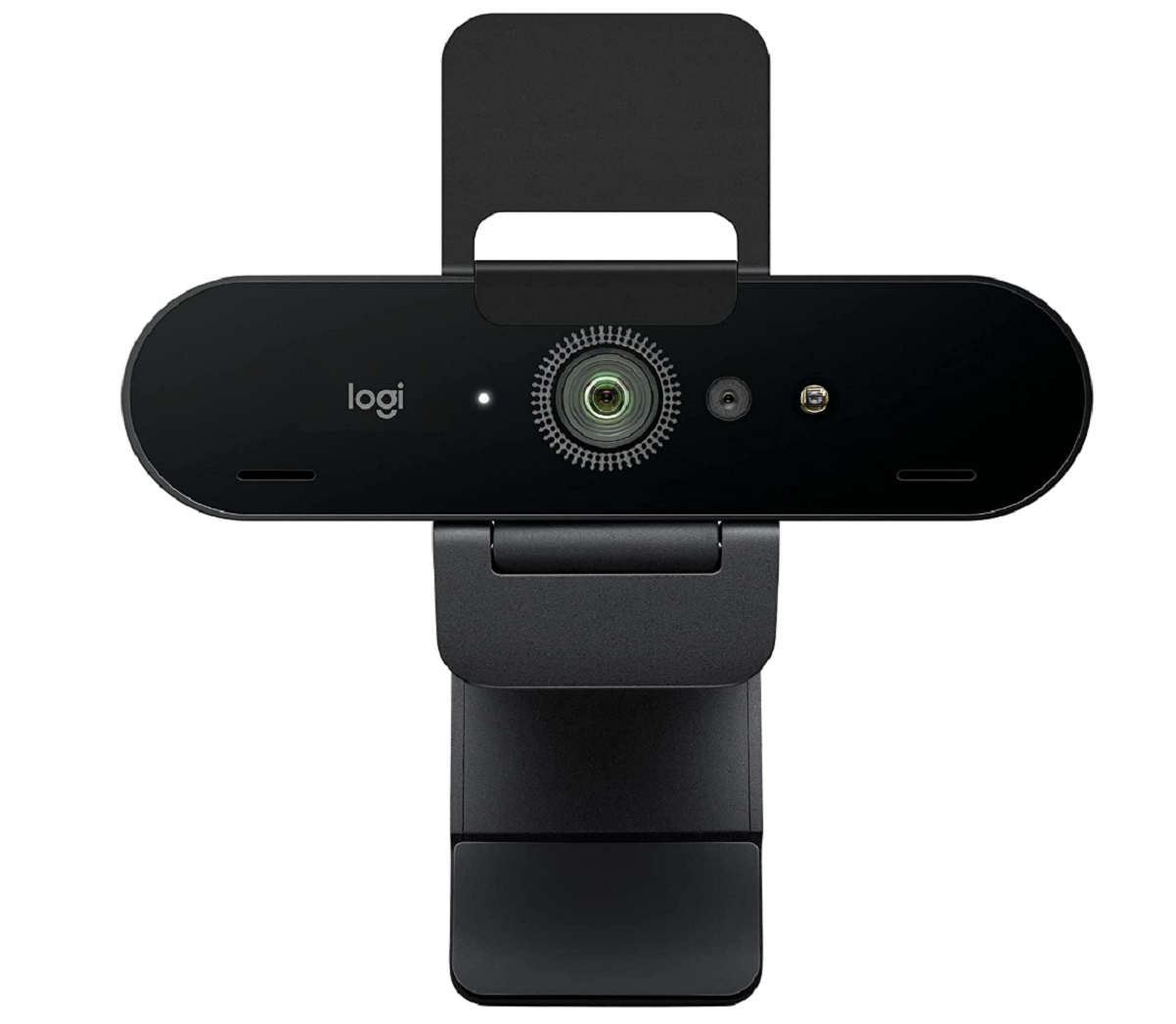 Pros
Sharply detailed resolution with vibrant colors
Wide-angle field of view
Infrared-based facial recognition
If we're being honest (and price is no object) the Dell UltraSharp webcam above would be our top pick for a Windows Hello webcam. But Logitech's also feeling the heat, and it has lowered the price of its Brio 4K as a result. We can't help but recommend it.
It still ranks highly among premium webcams, primarily because it's one of the few autofocusing webcams that captures in 4K resolution. The Brio includes a ton of features to make you look great, and its Windows Hello support will log you in in a snap.
Read our full
Review Logitech Brio 4K Ultra HD Webcam
MouseComputer Facial Recognition Webcam – Best budget webcam for Windows Hello

Pros
Inexpensive, but decent quality
Cons
720p resolution
You may need to disable your PC's own webcam
Our separate story on Windows Hello webcams offers cheaper options than the MouseComputer webcam, but the image quality of the webcam itself appears to be better—or, conversely, the competition is fudging on whether they offer true 1080p resolution. In any event, this $65 or so webcam seems to offer what you'll need, plus Windows Hello functionality.
Users have complained that you'll need to make sure Windows is up to date and that your webcam is directly plugged into your laptop. There's no privacy shutter, unfortunately.
1080p webcam buying guide
A standalone 1080p webcam can't add Windows Hello to your system, but it can greatly improve how you look on your next Zoom call. Here's what to look for. You'll probably ask yourself: Should I prioritize a 60fps webcam over an autofocusing webcam? We'd say that if you have to choose one, choose the former. Unless you'll be moving about a lot, a fixed-focus webcam will do just fine.
Adjustable or fixed focus
Don't worry about fixed-focus, as it's been pre-configured at a focal length that's about the distance between your face and your laptop or monitor. You'll need to account for this with tripods, however, or pay a little more for an autofocusing webcam. Autofocus webcams are handy for situations where you may be moving about the room, but beware distracting webcams that frequently refocus.
Higher frame rates
A standard webcam captures video at 30 frames per second, and will look "normal." You'll notice the smoothness of a 60fps camera though, and so will people you're on a video call with.
Field of view (FOV) 
The camera's field of view can vary. A 90-degree FOV helps people focus on you (and perhaps not the mess you've hidden off to the side). A 110-degree or higher FOV works better for group shots, although distortion can become a problem the wider your FOV gets. Think of a 90-degree FOV as one that would show two people seated side-by-side at what you would consider a "standard" distance from a webcam, or a foot or two. A 110-degree FOV can show three people, squeezed a bit close together. Keep in mind that many videoconferencing applications offer the option of virtual backgrounds which eliminate visual clutter.
Privacy shutter
These devices are not a privacy threat, for the simple reason that they can be unplugged easily. Most have a flip-down privacy shutter, but you could always tape over the camera or drape it with a dark cloth. 
Ring lights
Yes, integrated ring lights are now a thing on premium webcams, and worth the money if lighting is a challenge for you. While the integrated light will certainly help with lighting, a big bright display in front of you can serve a similar function. You can also purchase a ring light seperately.
Windows Hello
You may have used Windows Hello with a fingerprint reader or another laptop. The camera simply "recognizes" you, logging you in. It's exceptionally convenient.
Tripod bundle
With so many webcams on the market, manufacturers are trying hard to differentiate their products. The new trend is a small tripod, which gives you more options for mounting the camera. Normally, however, it will clip to the top of a laptop display or monitor.
AI
There's a potential wild card that may be attached to webcams in the future: artificial intelligence, specifically Windows Studio Effects. Right now, the current Surface Pro 9 (5G) uses the AI capabilities in the Qualcomm Snapdragon processor to apply background blue, automatic panning effects, and more. (Our review discusses this.) Other laptops that use Intel Core and AMD Ryzen processors don't include AI capabilities—yet. Specific models in the 13th-gen mobile Core and AMD Ryzen 7000 Mobile series include some basic AI capabilities, and future processors in both families may offer AI capabilities and therefore Windows Studio Effects.
FAQ
---
1.
Do you need Wi-Fi for a webcam?
Yes and no. These webcams all connect to your computer directly, via a USB port. Your computer will then need to be connected to either ethernet or to Wi-Fi for you to be able to chat with a friend or business partner.
2.
Can a webcam work without a computer?
Yes some webcams can work without a computer, but not all of them. USB webcams connect via USB to a computer and require it to operate. USB webcams are most often those used for video chat or live streaming from your computer on websites such as Twitch.
IP webcams however, can connect directly to a network, router, or modem and do not require a computer at all in order to work. IP webcams are most often used as security cameras or for live feeds that upload directly to the cloud. Those are separate products, however, and not the same webcams we're talking about here.
3.
How do I connect my webcam to the internet?
For USB webcams, it will be as simple as plugging the camera into your computer's USB port, downloading the firmware, and then connecting to the internet via your computer.
4.
What software do I need to connect my webcam?
Technically, most webcams are plug and play, so you should simply be able to connect them to your PC to get them to work. Many, however, require their own software utilities to be installed to take advantage of specific features and to facilitate automatic updates. To actually use your webcam in a conference call, however, you'll need to use Zoom, Microsoft Teams, Google Meet, or another videoconferencing app. Make sure you enter the app's settings menu and select the webcam's camera and microphone to provide the audio and video for your call.